Membrane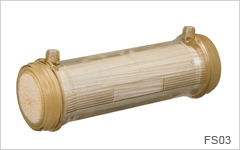 Hollow fiber membrane module (Small and medium type)
We offer a wide selection of high-performance modules, and it is possible to select an appropriate hollow fiber module according to the purpose of use and the scale. There are various module sizes and membrane grades, and an optimal module suitable for properties of the treated liquid and the purpose of use can be introduced.
Characteristics of the hollow fiber membrane module (Small/ medium type)
Introduction of membrane types
There are 3 materials for UF membrane: cellulose acetate, polyacrylonitrile and polyethersulfone.
Cellulose acetate (CA)
F50 type is a hollow fiber type membrane module which is accredited as a membrane module for water supply, and it has a top-level record in the field of water supply. It has high performance in disinfection and clarification of well water and industrial water as well as river water, and it has been adopted in a wide range of fields such as food and ultrapure water manufacturing (RO pretreatment).
High permeability is retained for a long period.
The cellulose acetate hollow fiber membrane, which has high hydrophilicity, is not easily be soiled, so it is possible to keep the high permeability for a long period.
Stable, long-hour operation is possible.
By performing periodical back washing, stable operation is possible for a long period. In addition, by cleaning with chemical agents (citric acid, hypochlorous acid), it is possible to recover the membrane performance.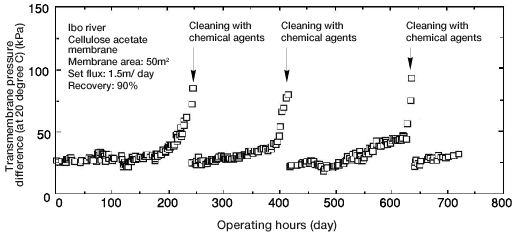 Polyacrylonitrile (PAN)
This is a hollow fiber membrane module for enzyme treatment.
Excellent low protein adsorptivity and sharp molecular cutoff curve
Since adsorption of protein by the hydrophilic polyacrylonitrile is small, it is possible to acquire stable rate of filtration.
The molecular cutoff of FUY03A1 is sharp, and it is suitable for enzyme concentration.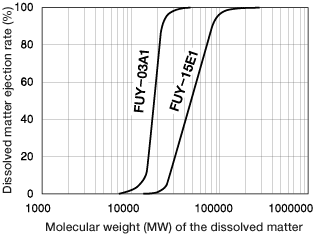 Polyethersulfone (PES)
The hollow fiber type membrane modules, which has excellent chemical resistance and heat resistance, can be used for various purposes in the fields of food, enzyme, process, etc.
Breakthrough heat resistance, excellent chemical resistance
It is possible to perform heat sterilization, and it has high thermostability. It can be used in the pH range as wide as 1 to 13, and it can be applied to intense cleaning.
Contact number
Membrane Sales Department
Tokyo

+81 (0)3-6631-3000

Osaka

+81 (0)6-7639-7351